Club Statement: COVID-19
Raiders Club News
Posted By: Raidercast
December 16, 2021, 09:05:00 AM
Club Statement: COVID-19
More:
https://www.raiders.com.au/news/2021/12/16/club-statement-covid-19/
Raiders staff member tests positive for COVID-19
Raiders NRL News
Posted By: Raidercast
December 16, 2021, 08:33:30 AM
A Canberra Raiders staff member has tested positive to COVID-19. A Raiders spokesperson said they would release more information soon, but there would be "implications for players". More to come. READ ALSO: Our journalists work hard to provide local, up-to-date news to the community. This is how you can continue to access our trusted content:/images/transform/v1/crop/frm/DaHt57RjVSvtvCBUgFzTWj/0c13062a-3542-4a0e-a7f2-88e330ddfbd6.
More:
https://www.canberratimes.com.au/story/7553838/raiders-staff-member-tests-positive-for-covid-19/?cs=14239
Wayne gets a wriggle on! Brother of ex-Origin star among THREE Dolphins signings: Transfer Centre
Raiders NRL News
Posted By: Raidercast
December 16, 2021, 08:17:30 AM
More dominos to fall after Cotric move to Raiders
Raiders NRL News
Posted By: Raidercast
December 15, 2021, 12:29:47 PM
Former NSW Origin winger Nick Cotric will commence training with Canberra this week after being released by Canterbury in a move expected to have a domino effect on the player transfer market.
Cotric, who joined the Bulldogs from Canberra last season, played 14 matches for his new club and was under contract for two more years, but became the latest departure from Belmore as new GM of football Phil Gould re-shapes their roster. 
Canterbury have been linked with Parramatta hooker Reed Mahoney and Penrith backrower Viliame Kikau for the 2023 season but neither signing has been announced by the club.
However, Parramatta have confirmed that Mahoney is leaving at the end of next season, along with forwards Isaiah Papali'i (Wests Tigers), Marata Niukore (Warriors) and Ray Stone (Dolphins).
Parramatta last week announced the recruitment of England hooker Josh Hodgson from 2023 and his Raiders team-mate Bailey Simonsson for next season.
More:
https://www.nrl.com/news/2021/12/15/more-dominos-to-fall-after-cotric-move-to-raiders/
Star local returns to Raiders on three-year deal
Raiders NRL News
Posted By: Raidercast
December 15, 2021, 12:13:55 PM
Nick Cotric has signed a three-year deal to immediately rejoin the Green Machine, and is expected to link up with his teammates for preseason training by the end of this week. The Raiders announced the acquisition on Wednesday, after the NRL's salary cap department signed off on the move following winger Bailey Simonsson's immediate switch to Parramatta last week. Local junior Cotric still had two years to run on a lucrative deal at the Canterbury Bulldogs, but was given permission by the big-spending Belmore club to look elsewhere for 2022 and beyond. Cotric had not settled in Sydney, and was keen on a move back to the capital despite strong interest from the Wests Tigers. The 23-year-old struggled in 2021 at his new club, playing 14 matches before his season was ended by a persistent toe injury.
More:
https://www.canberratimes.com.au/story/7552638/star-local-returns-to-raiders-on-three-year-deal/?cs=14239
Cotric returns to Raiders as Bulldogs confirm immediate release: Transfer Centre
Raiders NRL News
Posted By: Raidercast
December 15, 2021, 11:05:19 AM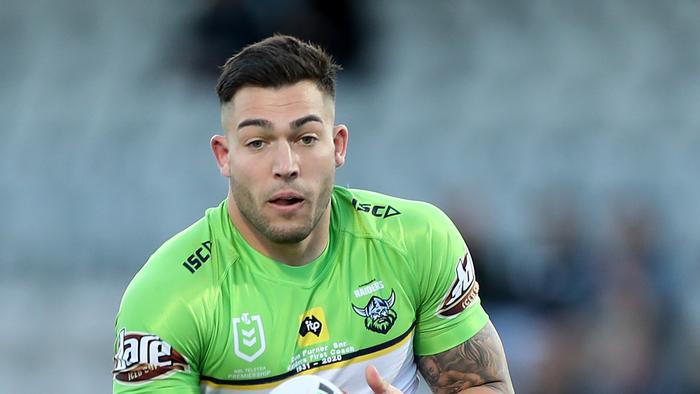 Nick Cotric has been released from the final two years of his Bulldogs to re-join the Raiders on a three-year deal. EVERY NRL CONTRACT >
More:
https://www.foxsports.com.au/nrl/nrl-premiership/nrl-2022-nick-cotric-signs-with-canberra-raiders-bulldogs-release-threeyear-deal-transfers-signings-news/news-story/2f4f18b582d91695b4dbd24387e336b7
Nick Cotric to return to the Raiders
Raiders Club News
Posted By: Raidercast
December 15, 2021, 10:36:57 AM
Nick Cotric to return to the Raiders
More:
https://www.raiders.com.au/news/2021/12/15/nick-cotric-to-return-to-the-raiders/
It's been a wild six-week feeding frenzy of NRL signings - here's where each club stands
Raiders NRL News
Posted By: Raidercast
December 15, 2021, 09:54:57 AM
It's been a wild six-week feeding frenzy of NRL signings - here's where every club stands
Raiders NRL News
Posted By: Raidercast
December 15, 2021, 09:17:29 AM
Final – Raiders 40-year Jersey Competition
Raiders Club News
Posted By: Raidercast
December 15, 2021, 09:07:11 AM
Final – Raiders 40-year Jersey Competition
More:
https://www.raiders.com.au/news/2021/12/14/final--raiders-40-year-jersey-competition/